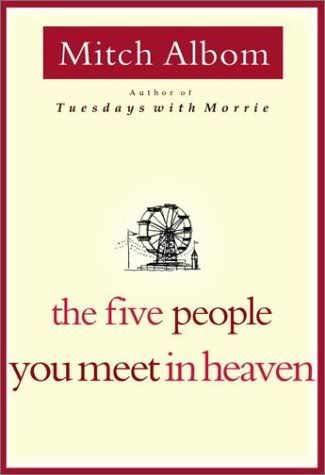 Title: the five people you meet in heaven
Author: Mitch Albom

"the five people you meet in heaven" could be summed up in a few basic descriptions: inspirational, simple and uplifting.

The book is pretty much exactly what the title says. The title character is an old man named Eddie and the book begins with his death. Afterwards, the reader gets to see Eddie interact with five people from his life. Some of these people Eddie never met or he only met for brief moments. Other people were entrenched in his life. But all five had their own reasons for wanting to see Eddie when he died.

In this book after a person dies, they are greeted by their five people, one after the other. Each person shares a story. Eddie learns things about his life like why certain things happened and how people were influenced by him. He essentially learns why he existed. After he talks to everyone Eddie is able to find the peace of mind he never had and at the end, he gets in line to share his story with someone whose life he changed.

It's a very touching and heartwarming book. I was quite pleased with the author's writing style. Mitch Albom writes very simplistically, but it isn't boring. I would say it was more realistic. I found it really easy to identify with the people in the book. The way he writes makes it seem like he's writing about every day normal people and not some outlandish character.

I did cry during the last two chapters of the book. For me, that's a sign it's a good read. Or it could be that my emotions are easily swayed. :D;

Although the book deals with the concept of going to heaven when one dies and with God, it is by no means a religious book, which was a great relief to me. The book is more focused on Eddie's relationships with the people around him and how he grew up.

Overall this book was a wonderful read. It's definitely something I'd pick up if I was feeling down. It really made me think and appreciate the people who truly mean the most to me.

I give this book a 4 ♡ out of 5. You can bet I'll be looking for more books by this author.